With a fantastic May 25th online event, WGD Palooza and live Women's Golf Day global events June 1st, everyone can get involved
(WEST PALM BEACH, Fla., 19 May 2021)  Women's Golf Day (WGD) is just around the corner and there are more ways than ever for golfers, and non-golfers, around the world to connect to the growing WGD Community. 
Get Ready …

Get ready for WGD and WGD Palooza by purchasing some of the amazing WGD branded capsule collection created for official retail partner PGA TOUR Superstore.  These include a super cool WGD t-shirt, Titleist golf balls, ball markers, hats, visors and more.  Don't forget to share your photos on social media using #womensgolfday.
Get Set … 
On May 25th pull up a chair and enjoy some fabulous, exclusive, online content from around the world with WGD Palooza.  To kick off the live events taking place globally on June 1, WGD is bringing you this brand new, 4-hour digital experience called WGD Palooza.  Filled with fun and chances to win sponsor giveaways, WGD Palooza is free to register. Enjoy a unique tour of the World Golf Hall of Fame curated through the eyes of women, amazing sponsor giveaways from the likes of Titleist and Callaway, plus guest appearances from golf stars like Annika and more.  Event better, to give that 'in person' feel, attendees can connect to each other and the presenters through a live a chat function, which promises to be a lot of fun.  Register here:  www.wgdpalooza.com 
And Go!
On June 1st WGD events will be taking place, where possible, around the globe.  Women can find a location using the www.womensgolfday.com/locations search function.  Events take place in a wide variety of locations including Topgolf venues and PGA TOUR Superstores as well as traditional golf courses and driving range.  Many are free of charge.  Join the fun and engage with women throughout the world on June 1st!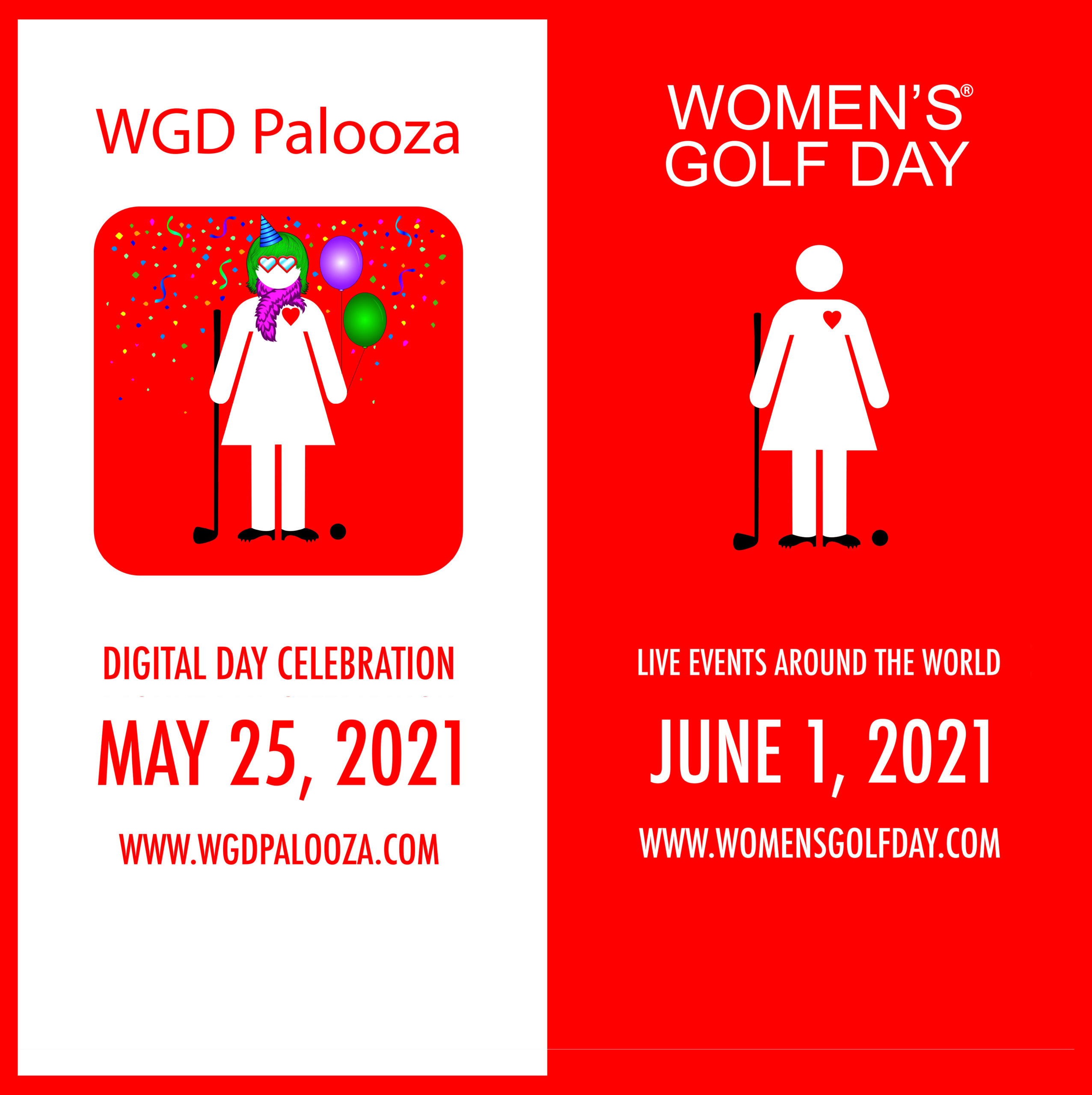 Women's Golf Day Supporters:
Partners and supporting organizations of WGD are:  Ahead, All Square, Annika Foundation, ASIAN GOLF, Callaway Golf, The California Alliance for Golf, Chronogolf, ClubCorp, EGCOA, European Tour, European Tour Properties, PGA of America, FootJoy, The First Tee, Gallus Golf, The Golf Channel, GolfNow, International Golf Federation, LET, LPGA, LPGA Amateur, Modest Golf Management, NGCOA, NGCOA Canada, PGA of America, PGA TOUR, PGA TOUR Superstore, The R&A, Sky Sports, Titleist, TopGolf, TPC Properties, Troon Golf, Troon International, USGA, WE ARE GOLF, Women & Golf, The World Golf Foundation and more.
About Women's Golf Day: 
Women's Golf Day (WGD) is a global movement that strives to Engage, Empower, and Support women and girls through golf.  The one-day, four-hour event, has now taken place at more than 900 locations 68 countries since its inception in 2016, and has introduced thousands of new golfers to the sport. WGD is the fastest-growing female golf development initiative. 
In 2020, WGD's primary hashtag, #WomensGolfDay, received more than 59 million global impressions to nearly 37 million people viewing WGD content. Women's Golf Day is unique, there is nothing like it in sports, a one-day sporting and community celebration event that unites women through golf across the globe for 24 hours straight transcending race, religion, language, geography, or economic status. 
To find us online visit: www.womensgolfday.com
To follow us on social media: @womensgolfday #WomensGolfDay #WGDunites
MEDIA CONTACTS:
Nicole Wheatley, Medi8 nicole@medi8ltd.co.uk +44 (0) 7507 556 794
Elisa Gaudet, WGD Founder elisa@execgolfintl.com    +1 (305) 610-9558
Sponsorship inquires: marketing@womensgolfday.com