Even if you are not a golfer, most of us have a bucket list of things we would like to do and things to experience in our lifetime. I have been very fortunate and created the opportunities to live and travel abroad for over 20 years. As part of Women's Golf Day Travel (WGD Travel), we will share some of our favorite locations, dream golf courses, fabulous spas, and unique culinary experiences and destinations. Many of these locations have hosted a Women's Golf Day event, so we have gotten to know them and want to share these experiences with you, hoping it will encourage you to visit these beautiful destinations.
Italy has always been a sought-after destination for travel, arts, and fantastic cuisine; now, it is the go-to golf destination. The Italian Open is taking place in Rome from September 15-18 at Marco Simone  (golfmarcosimone.com) – the same course will host the Ryder Cup from September 29th to October 1st, 2023. We love this course, owned by a woman, Lavinia Biagiotti, who has consecutively hosted a Women's Golf Day event since 2016. The views from the course are spectacular, including a castle on the property and views of the St. Peters dome. Besides exceptional golf throughout the country, you get the bonus of history and incredible architecture, fashion, amazing landscapes and vistas, delicious cuisine, and wine to help you forget your score should you shoot high.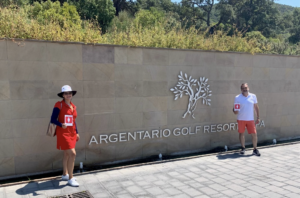 Marco Simone is a must-play location in Italy as it hosts some of the top professional tournaments. Beyond Rome, there are excellent courses and experiences all around Italy. Less than two hours outside Rome, exists golf gem, Argentario Golf and Wellness Resort (argentarioresort.it) in the southern part of Tuscany; this area is like what the Hamptons are to Manhattan. Argentario Golf & Wellness Resort is a 5-star resort with designer rooms and villas, an 18-hole "PGA National Golf Course Italy" golf course, a nearly 3000 m² wellness center, and two restaurants. A unique and exclusive location with a breathtaking design set in the Tuscan hills with views of the Mediterranean Sea. My first instinct is to describe Argentario GC as if Frank Lloyd Wright and Philippe Starck had a baby. There seems to be an intentional effort to unify space and blend interiors and exteriors. The course was awarded the "Agri Cert" certification for its bio eco-compatibility, and all products used for its maintenance are entirely natural.
The course was a pleasure to play, and I agree with most that the front nine is more enjoyable than the back nine, but none of them disappoint. It is technical and a bit difficult, but well worth playing. The clubhouse, spa, and dining facilities are indeed 5-star, and the staff could not have been friendlier or more accommodating. Bonus, they are a dog-friendly course. Coco, my dog, tested the property and approved it. I am sure Amanda Renner (puppiesandgolf.org) would agree.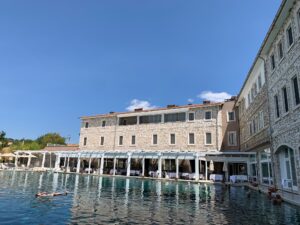 Terme di Saturnia Natural Spa & Golf Resort (termedisaturnia.it) – This is a resort I have been coming to before they had a golf course. The resort is located on the site of a thermal spring dating from before the Etruscan era. Generations of bathers have enjoyed the soothing waters gushing at a rate of 130 gallons per second at a constant temperature of 98.6 F. The state-of-the-art spa offers a range of luxurious, regenerative therapies that capitalize on the healing powers of spring water. Terme di Saturnia springs have been a renowned source of well-being for centurions, soldiers, Popes, and farmers; they have all bathed here. The springs began in Etruscan times, with baths appearing on the site. In 1454 they truly flourished when a permit was granted for the Saturnia Baths. In 1865, the Ciacci Family acquired them and created an actual spa facility. In 1919 Gaspero Ciacci built the original hotel. Today, Terme di Saturnia is a 5-star Resort, a member of The Leading Hotels of the World.
Terme di Saturnia Golf is a Par 72, 18-hole Championship course designed by Ronald Fream of the Golf Plan Team. It extends to 6,316 meters over 70 hectares of the fabulous Tuscan countryside. The course caters to all levels, including beginners, while high skill and precision will be well rewarded. The course is one of the few GEO-certified courses in Italy and is designed to merge with the surrounding hills, carefully conserving natural habitats. This course is also Coco tested and approved, as they provide equally special attention to dogs as human guests. The course offers the quintessential views of the Tuscan hillside, vineyards, and the tall thin Tuscan tree native to Italy that sometimes grows up to 60 feet high. The clubhouse is within the hotel hall, but do pay a visit to La Stellata, a typical farmhouse trattoria on the hill running along the 13th fairway and 16th tee box. The view from there is breathtaking.
Women's Golf Day Official Partners
Callaway Golf, FootJoy, GloveIt, Golf Town, Titleist, RBC, The R&A, PGA TOUR Superstore, The PGA of America and The USGA.  
Women's Golf Day is also proudly supported by: All Square, Annika Foundation, Asian Golf, Chronogolf, ClubCorp, Cutter & Buck, EGCOA, European Tour, European Tour Properties, The First Tee, Gallus Golf, The Golf Channel, GolfNow, Imperial Headwear, International Golf Federation, LET, Modest Golf Management, NGCOA, NGCOA Canada, PGA of America, PGA TOUR, Players First, Prestige Flag, Sky Sports, TopGolf, TopTracer, TPC Properties, Troon Golf, Troon International, WE ARE GOLF, Women & Golf, Women's Golf & Travel, The World Golf Foundation and more.
About Women's Golf Day
Women's Golf Day (WGD) is a global movement that Engages, Empowers, and Supports women and girls through golf and facilities them learning the skills that last a lifetime. The one-day, four-hour event, has now taken place at more than 1000 locations in nearly 80 countries since its inception in 2016, and has introduced thousands of new golfers to the sport. WGD is the fastest-growing female golf development initiative.
All are welcome to participate in Women's Golf Day except where prohibited by law. Women's Golf Day does not discriminate against anyone on the basis of sex, race, color, religion, ancestry, national origin, disability, medical condition, genetic information, marital status, or sexual orientation.
Inquires: marketing@womensgolfday.com