There's Still Time To Register Your Location And Take Part In The Weeklong Women's Golf Day 2023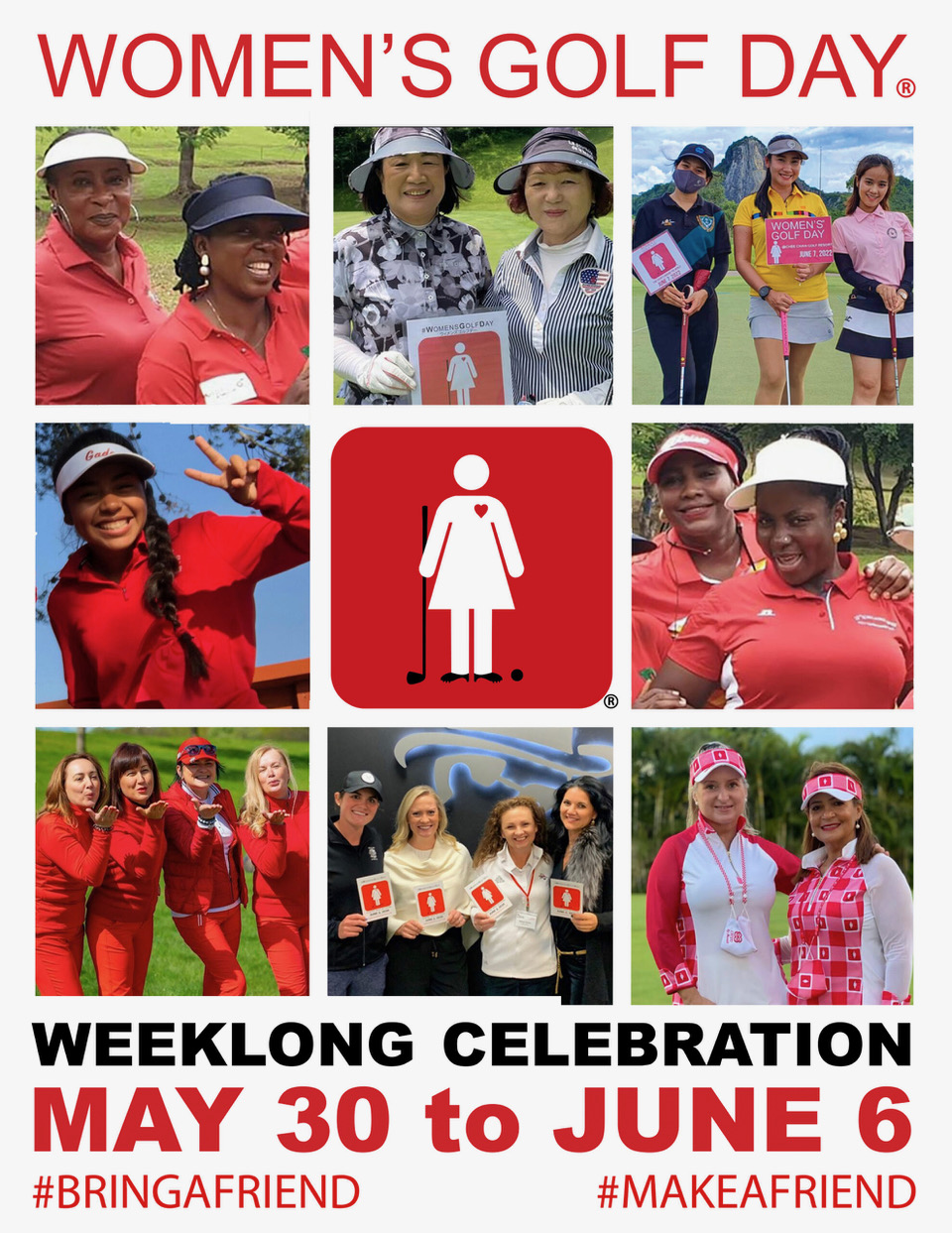 WEST PALM BEACH, Florida –  Wednesday, April 19, 2023 – Don't miss out!  We are just over a month out from Women's Golf Day's Weeklong Celebration.  Golf course owners and operators as well as PGA Members play an important role in promoting and encouraging golf as an inclusive sport for all.  This is your chance to become part of the Women's Golf Day (WGD) global movement as it pivots to a weeklong event from May 30 to June 6, 2023 – you can hold your event any day this week!
WGD attracts thousands of golfers around the world, wide media coverage and received 112,000,000 social media impressions in 2022.  Here are just a few of the benefits of registering for Women's Golf Day 2023:
Increase your golf course's exposure: Women's Golf Day will provide tools and promotional materials to help you be a part of this highly visible event that generates a lot of buzz on social media and in the press. By participating, you will be putting your golf course in front of a large and engaged audience. Host locations now have more ways to communicate with their WGD guests all year long, which is also important.
Attract new golfers: Women's Golf Day offers a website listing highlighting your dedication to women's golf. Newcomers are more likely to engage in a welcoming and inclusive environment.  Your participation helps new players feel comfortable and confident coming to your golf course.
Build community: Women's Golf Day registration offers your guests access to official merchandise and contests, but it is about more than just golf. It's about building relationships and creating a supportive community of women who love the game. By participating, you can help foster this sense of community at your golf course.
If you have registered your location in previous years, you can renew your listing by logging in to your account at womensgolfday.com/my-account and selecting "My Location Listings" from the menu to access your location listing and renew for 2023. If you have never registered a location before, registration is now open at womensgolfday.com/register.  This page outlines exactly what you can expect and what benefits an event registration entitles you to.  Anyone registering using the code wgdgolf23 will benefit from an upgrade to Premier Listing which entitles locations to promote their course and its events, travel packages and tuition programs throughout the year.
Women's Golf Day Official Partners
Callaway Golf, FootJoy, GloveIt, Golf Town, Titleist, The R&A, RBC, PGA of America, PGA TOUR Superstore and USGA.
Women's Golf Day is also proudly supported by:  All Square, Annika Foundation, Asian Golf, The California Alliance for Golf, Chronogolf, Cutter & Buck,  EGCOA, European Tour, European Tour Properties, The First Tee, Gallus Golf, The Golf Channel, GolfNow, Invited, Imperial Headwear, International Golf Federation, LET, Modest Golf Management, NGCOA, NGCOA Canada, PGA of America, PGA TOUR,  Players First, Prestige Flag, Sky Sports,  TopGolf, TopTracer, TPC Properties, Troon Golf, Troon International, USGA, WE ARE GOLF, Women & Golf, Women's Golf & Travel, The World Golf Foundation and more.
About Women's Golf Day
Women's Golf Day (WGD) is a global movement that Engages, Empowers, and Supports women and girls playing golf and learning the skills that last a lifetime. The one-day, four-hour event has occurred at more than 1200 locations in nearly 88 countries since its inception in 2016, and has introduced thousands of new golfers to the sport. WGD is the fastest-growing female golf development initiative.
All are welcome to participate in Women's Golf Day, except where prohibited by law. Women's Golf Day does not discriminate against anyone on the basis of sex, race, color, religion, ancestry, national origin, disability, medical condition, genetic information, marital status, or sexual orientation.
MEDIA CONTACTS:
Nicole Wheatley, Medi8 (UK) nicole@medi8ltd.co.uk +44 (0) 7507 556794
Elisa Gaudet, WGD Founder elisa@execgolfintl.com    +1 (305) 610-9558
Sponsorship inquires: marketing@womensgolfday.com