From Times Square to Tokyo, WGD brings global smiles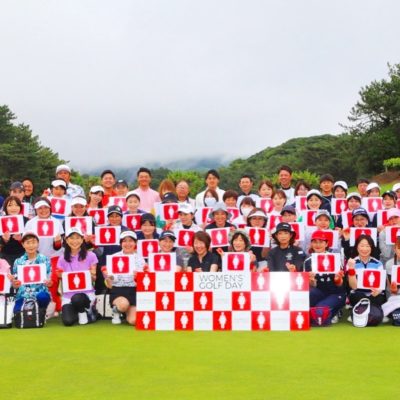 (WEST PALM BEACH, Fla., 07 June 2023) The first weeklong Women's Golf Day (WGD) celebration drew to a close as the last event finished at Moorea Green Pearl Golf Club in French Polynesia on Tuesday evening, the 6th of June.  More women and girls were able to access these celebratory events in 2023 than ever before given the new weeklong format and the increase in the number of participating countries and venues.
Starting with WGD Palooza Digital Day and the ringing of the New York Stock Exchange (NYSE) Opening Bell, the celebration continued throughout the week.  New and existing female golfers around the globe dressed in red and white to share their experiences on social media.  The new format generated a staggering 194 million impressions, an increase of over 100 million impressions verses 2022, with an incredible 397,143 engagements and 92 million+ reach sharing a collective joy that perhaps can only be measured in smiles.
Key highlights of Women's Golf Day 2023 included:
WGD Palooza: a specially curated USGA Museum Tour, Instruction from Callaway and Titleist players, an interview with founding members of Project Ukraine, and giveaways from WGD partners, including The USGA, PGA, R&A, Callaway, Titleist, FootJoy, PGA TOUR Superstore, Imperial, Marco Simone, and Make Golf Your Thing
NYSE Opening: WGD Founder, Elisa Gaudet, was joined by a delegation including representatives from Acushnet and LPGA player Danielle Kang as Gaudet rang the opening bell at the New York Stock Exchange.
New Countries: Gambia, Greece, Peru, and Zambia joined the WGD community for the first time in 2023 taking the total number of participating countries to 84.
Japan Growth: after running 3 events in 2022, WGD and The Japanese Golf Federation worked in collaboration to grow the number of host locations in Japan from 3 to 139 in under 12 months.
Championship Venues: More than 1,300 locations have hosted the event since 2016, including high-profile venues like Marco Simone host of the 2023 Ryder Cup, Pinehurst – host of the 2024 US Open, TPC Sawgrass – The PLAYERS Championship, Firestone Country Club – the World Series of Golf, TPC Scottsdale – WM Phoenix Open, Evian Resort- The Amundi Evian Championship in France, Taiheiyo Club Minori Course in Japan, and Aphrodite Hills Golf & Country Club in Cyprus.
PGA TOUR Superstore (PGATSS): Official Retailer of Women's Golf Day held in-store activation events. PGATSS held events at all stores across the USA, excluding California, Saturday, June 3rd. There were driving contests in the simulators and basic instruction for new golfers as well as putting contests and the chance to win a Women's Golf Day branded Callaway Golf Bag.
Golf Town: Canadian retailer hosted WGD events on Tuesday, June 6th at all 47 locations across Canada.
"Every year we work to increase the number of facilities that host Women's Golf Day and it was very exciting to welcome the 139 courses from Japan and watch on social media, in real-time, the impact WGD has on golf around the globe.  I experienced first-hand how important it is to have new and existing female golfers participate in WGD events to build confidence, new friendships, and skills that do last a lifetime. Our goal is to create more opportunities and unity and we are achieving that on a global level," commented Gaudet.
She continued, "Growing demand for additional days from host locations prompted us to expand to a weeklong format, resulting in impactful and significant activation on each day this week. Starting on May 30th with the WGD Palooza digital day and May 31st ringing the opening bell at the NYSE with Acushnet (Titleist and FootJoy). It is important to have retail engagement and in-store activation from both PGA TOUR Superstore and Golf Town as well as championship courses around the world hosting events.  Having lived in NYC for 10 years it is thrilling to see WGD and Acushnet billboards running for a few weeks in Times Square as well as Silicon Valley.  This support includes our partners, RBC, who are hosting the RBC Canadian Open this week."
Locations are invited to register now for 2024 allowing them to make full use of the promotional opportunities the Women's Golf Day platform offers them throughout the year.  Registered locations are encouraged to update their location page regularly throughout the year to promote other offerings at the club including travel/ trips, instruction, and ongoing events.  They will also receive additional support through the WGD social media channels and direct marketing opportunities. For location registration visit www.womensgolfday.com/register
Media Information, Images, and Video Files here: https://www.womensgolfday.com/press/
Women's Golf Day Official Partners
Callaway Golf, FootJoy, Titleist, PGA of America, PGA TOUR Superstore, RBC, The R&A, and USGA.
Women's Golf Day is also proudly supported by: All Square, Annika Foundation, Asian Golf, The California Alliance for Golf, Chronogolf, Cutter & Buck, EGCOA, European Tour, European Tour Properties, The First Tee, Gallus Golf, The Golf Channel, GolfNow, GloveIt, Golf Town, Imperial Headwear, International Golf Federation, LET, Modest Golf Management, NGCOA, NGCOA Canada, PGA of America, PGA TOUR, Players First, Prestige Flag, Sky Sports, TopGolf, TopTracer, TPC Properties, Troon Golf, Troon International, WE ARE GOLF, Women & Golf, Women's Golf & Travel, The World Golf Foundation and more.
About Women's Golf Day
Women's Golf Day (WGD) is a global movement that Engages, Empowers, and Supports women and girls playing golf and learning the skills that last a lifetime. The one-day, four-hour event has occurred at more than 1,300 locations in nearly 84 countries since its inception in 2016, and has introduced thousands of new golfers to the sport. WGD is the fastest-growing female golf development initiative.
All are welcome to participate in Women's Golf Day, except where prohibited by law. Women's Golf Day does not discriminate against anyone on the basis of sex, race, color, religion, ancestry, national origin, disability, medical condition, genetic information, marital status, or sexual orientation.
MEDIA CONTACTS:
PRESS PAGE  images and releases            www.womensgolfday.com/press
Nicole Wheatley, Medi8               nicole@medi8ltd.co.uk  +44 (0) 7507 556794
Elisa Gaudet, WGD Founder       elisa@execgolfintl.com  +1 (305) 610-9558
Sponsorship inquires                    
Mary Kay Willson               marketing@womensgolfday.com             561-252-6023